Format
3 required courses (63 hours)
Duration
Complete in 1 year, or up to 3 years
ESG reporting is the collection and analysis of data on an organization's environmental, social and governance (ESG) standards, crucial information for socially conscious investors.
Environmental, social and governance (ESG) reporting is increasingly in the forefront as socially conscious investors, stakeholders and organizations include these factors in their analysis of business and organizations. As Alberta adds to its energy sector with sustainable production such as solar and wind, and carbon capture, utilization and storage (CCUS), organizations need a strategic approach to their ESG reporting.
This suite of courses is tailored to those who want better visibility of an organization's impact in the ESG arena, as well as those pursuing a career in sustainability/ESG. They also benefit those responsible for ESG reporting and who want a better understanding of what goes into an ESG report.
In these courses, you will learn how to deliver the core content of a corporate ESG report, including analyzing and understanding relevant data. Delve into globally recognised ESG standards and sustainability frameworks to determine which standards are most appropriate to your organization and industry. Explore the links between data typically included in an Environmental and Social Impact Assessment (ESIA) study and the data reported in a corporate ESG or sustainability report.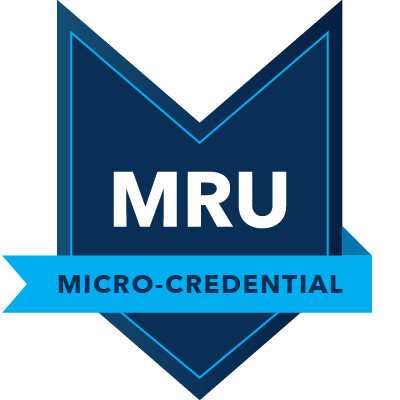 Micro-credentials
Each course in the ESG Reporting Extension Certificate is a designated micro-credential offered through the Faculty of Continuing Education. Our micro-credentials enable recent post-secondary graduates and established career professionals to develop and demonstrate specific skills that employers need. Complete a micro-credential course to earn a digital badge that you can share online so employers can verify your achievement. Learn more.
Highlights and benefits
Real-world knowledge | Understand globally recognized ESG standards and sustainability frameworks
Gain hands-on experience | Demonstrate workplace competencies to potential employers
Earn a digital badge | For each course completed, earn a digital badge through MyCreds™ to verify your demonstrated knowledge and skills in ESG reporting
Earn a recognized credential | Complete three courses to earn an ESG Reporting Extension Certificate.
Course schedule by semester
Fall
(Sept. - Dec.)
Winter
(Jan. - April)
Spring/Summer
(May - Aug.)
Overview of ESG Reporting
ON
ON
Fundamentals of ESG Reporting
ON
ON
ESG Reporting and ESIA Process
ON
ON
Legend
BL: Blended (Online & Classroom)
CL: Classroom
FT: Fast Track
ON: Online
IDS: Independent Study
P: Practicum
This schedule is subject to change. Courses start on various dates within each semester. Fall schedule and registration is available in June; Winter schedule and registration is available in November; and Spring/Summer schedule and registration is available in March.
Program questions?