Conservatory Academy Programs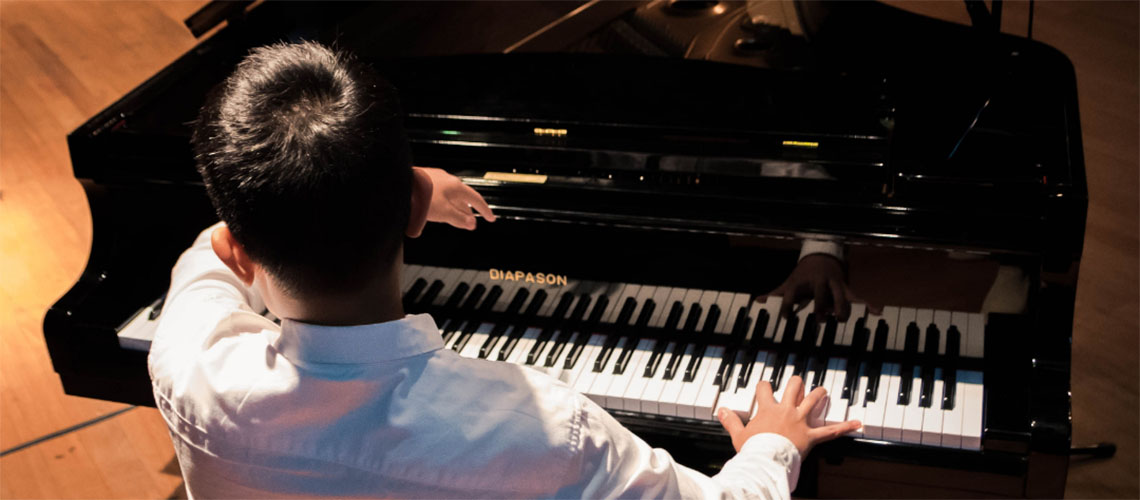 The Academy Program for Young Artists offers participants a comprehensive music education featuring inspiring opportunities to creatively work and perform with professional musicians and world-renowned instructors.
The Academy Program is suitable for extraordinary, young talent motivated to advance their performing acumen at an accelerated pace. Participants gain essential artistic experience in a variety of settings, including regular performances for audiences that may consist of peers, faculty members, guest artists and the public.
This intensive, non-credit program runs from September to May with classes and activities taking place on Mondays. Students who complete the program will earn a Certificate of Completion. Emphasis is placed on peer support in a creative, inspiring and positive learning environment and may include the following components:
Weekly masterclasses with designated Academy faculty, accompanied by an assigned collaborative pianist
Regular sessions with world-renowned guest artists, which may take place on any day of the week
Weekly chamber music coachings or group classes (depending on level)
Weekly or bi-weekly rehearsals (depending on level and instrument) with an assigned collaborative pianist
Weekly participation in our orchestral program (orchestral instruments) or choral program (non-orchestral instruments)
Optional weekly Music Literacy classes for different levels and ages
Frequent recitals aimed at developing confidence and stage presence
The Academy Program is divided into four distinct levels: Junior, Intermediate, Associate and Senior. Certificates of completion are only available at the Senior level. Class sizes for all levels (normally five to 10 students) warrant a great degree of interaction between teacher and students and allow for more one-on-one time than the average group class. For university-level students, see our Advanced Performance Program.
New students are placed in the program based on the results of their audition, while those already in the Academy are required to re-audition yearly to maintain or improve their standing. Students in all levels are required to be in private lessons with a teacher of their choice. Private lesson costs are not included in the Academy tuition.
The Academy Program's reputation is known and respected throughout the world, with many of our graduates being sought-after and continuing their musical studies in leading post-secondary music schools in Canada, the United States and Europe.
Important application information
Please complete the audition process before registering for this program. See details below and fill out the audition application form.
Who is the Academy Program for?
Any emerging young artist in Calgary or the surrounding area who shows clear talent, passion and dedication to their music studies is eligible to apply.
Audition requirements
Entrance to the Academy Program is by audition only. Auditions take place face-to-face in late May. All auditions are evaluated by a panel consisting of Conservatory faculty. Please note that Academy faculty may ask for additional auditions if needed. Students should prepare the following:
Tuition and subsidies
The Academy Program for Young Artists tuition includes rehearsals with collaborative pianists*, chamber music/group classes, frequent performance opportunities in recitals, masterclasses with world-renowned guest artists, participation in our orchestral and choral programs, and daily access to the Conservatory's world-class facilities and practice studios.
Please note that private lessons are not included in this cost, but are required for the program.
Based on the outcome of the audition, admitted students who applied for the Conservatory Young Artist Grant in their application may receive generous subsidization to support their musical education in the Academy Program. The Conservatory Young Artist Grant has been able to subsidize tuition anywhere from $800 to $4,450. In years past, 100% of students applying for admission to the Academy Program have received funding from the Young Artist Grant. Prospective students may also apply for further scholarships and bursaries ranging from $100 to $5,000.
The 2022-2023 tuition for each Academy Program is as follows1:
1 Figures shown include an estimate of subsidization from the Young Artist Grant. The funding amounts from the Young Artist Grant can change year to year and are not guaranteed.
* Please note that some instruments do not receive collaborative piano sessions.
Program questions?
For further information or for assistance, please contact academy@mtroyal.ca.
Tuition and scholarship deadlines
To secure their spot in the program and to be assigned to a chamber group and collaborative pianist, accepted students must pay their tuition by August 14, 2023. Please note that payment plan options are available; arrangements must be made by August 14, 2023.
Academy and APP students are eligible to receive scholarship funds on the basis of need and/or merit to help cover tuition. Additionally, students can also be considered for the Young Artist Grant.
Students can apply for scholarships, bursaries and the Young Artist Grant when they complete the program application form. You will be notified of your audition and scholarship status no later than June 30, 2023.
Audition forms and deadlines
Applications are currently closed. Applications for the 2023-2024 Academy and Advanced Performance Programs will open February 15, 2023. The deadline to apply is in early May. Students are notified of audition results no later than the end of June. The program begins in September.
Required fields are indicated by .